The challenge of the Willowcrest!
---
Well I just realized I could create a blog. And I figured why the heck not? The Willowcrest is truly such and incredible house, and Im really enjoying building it. This is my 3rd house to build. And the one thing I learned while building the Garfield was that you have to take your time. And that the steps the directions give you arent always the best. for example. the directions said to glue the windows on before assemble. thats great and all but when it comes to painting the house itself. it wasnt exaclty "easy". So this house im kind of doing it my own way. And I'm really happy with the results so far.
One thing im doing with this house that I havent down with any other, was staining. Ive stained all the floors, the frames, molding, basing, and starcases. and it really gives it that more "real" feel to it.
I started off building my house with doing alot of the side paneling to the outside of the front of the house...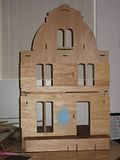 I only did the side paneling up the to curved portion. The bottom half that i did seemed liked it would be harder to do once the house was done. So i figured it was worth a try. This was the first time Ive done sidepaneling as well. and wow is it time consuming! i had no idea! But I really think it adds an extra something to the house and makes it even more special. I'm using the sidepaneling that the house kit came with, and I actually like it better that the stuff i bought online. its alot thinner and easier to cut.
Well thats it for now, next blog will be on the steps i did to assemble the bottom floor and working on the living room.
Thanks for reading, I'd love some feedback.
-Jen :lol: