I thought I escaped the marketing genius of Nabisco, but the manager at the grocery store moved the Limited Edition Oreo's up to the checkout area. Luckily, I only had a few and brought the rest to the office for Bev to eat! Bev can stand to gain a few pounds, so I think that this slip has caused little damage. In the future, I will avoid food shopping on an empty stomach!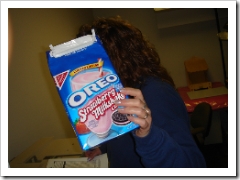 Bev enjoys Oreo's, but not the camera!
The first week of May has done little to help me reach this months goal of dropping 15 pounds, but I feel confident that I will hit my mark by the months end.