Adding color to a dollhouse really makes a hudge difference on the whole "morale" of the project. During the middle of last week I painted the front exterior and did some trim painting…
Having side paneling in my opinion really adds a completely different aspect and "feel" for the house itself and I am so glad to took the time to do it… It really has paid off now. I think one of my favorite features of this house is the Top Arch, wow is she a beauty! It just brings so much character to the front of the house. Im not sure if I mentioned the color I went with in a prevous blog but I went with "Williamsberg Blue" and pure white for the trims. The white on this type of blue really stands out and gives it a very colonial look I think.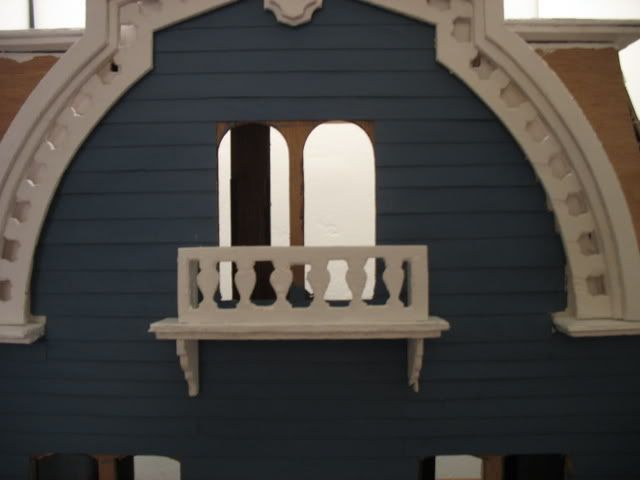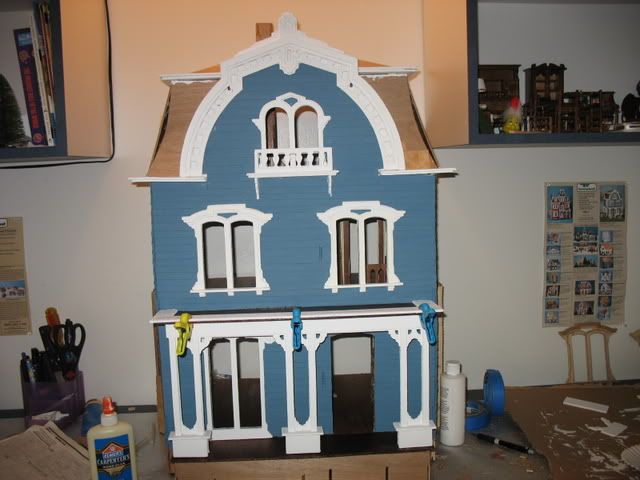 Over the weekend I tackled the left side of the house. This side was much easier to paint since it didn't have any arch's or many windows. I did spend a few mintues before I did the actually painting and took the time to sand the sides down just one more time. To give it a cleaner look…
On the kitchen bay window I used the clap board siding instead of the individual to give it a more modern look. Also I re stained the top part of this to a dark walnut. I did the same with the front of the house's balcony and proch. I think it looks MUCH better with the white and helps it stand out a lot more.
After that I painted the diamond shape staircase window trims. The main frame is white and I painted the 2nd layer blue to match the house. I got this idea from Nutti's Willowcrest. Which by the way,, I look at her webshots pics ALL the time for inspiration and guidance while building mine. So if you are ever to build a willowcrest I highly recommend taking a look at her webshots album.
After that I attached the white fascia trims that's I painted early on, and also glued on the vertical trims that go on the corners. It's really starting to look like a house now. And Im getting really excited to see its true "colors" come alive. This is the 3rd house I have built and it is my favorite by far, I am more proud of this house than I am of my other 2 combined. I look forward to completing this house and working on finishing the interior, and having this house to decorate for a life time. Well that's all for now…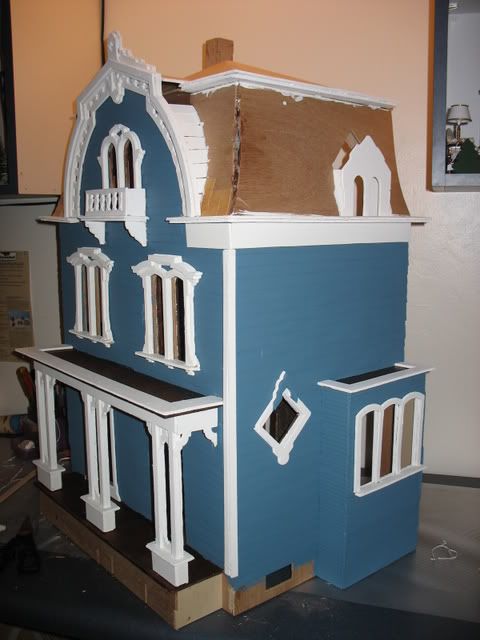 -Jenny :whistle: